TRANSPORTATION OF FEED
AGROCARGO IS A LEADER IN THE FIELD OF AGRICULTURAL TRANSPORTATION
We are No. 1 in Russia in the feed transportation by specialized transport.
Transportation throughout Russia

International shipping

Maximum biosecurity
The price depends on the contract constancy.
In the market, with spot transactions, the price can be several times higher than when working on a long-term contract. Therefore, we advise you to conclude a long-term contract with us and we guarantee a solid transparent rate for a long time and a ready vehicle at any time.
If you plan to purchase a vehicle (feed truck, grain truck) in the property, then we will calculate the payback for you and provide
investment schemes.
Highly qualified personnel of freight forwarders undergo trainings and pass exams for aptitude for the delivery of feed.
We know everything about the transportation of compound feeds
The dogma of our business:
Biosecurity
We track regions with epidemics of animal diseases. Drivers and their relatives cannot have a private farmstead. When starting work with new clients, all transport is disinfected and quarantined. Your security guarantee is access to GPS tracking for the vehicle online.
Various unloading systems
We will select various feed unloading systems considering different types of equipment: pneumatic with the use of the consignee's power supply, pneumatic with the use of the vehicle engine, screw, depending on the counterparty's site.
Highly qualified staff
Highly qualified personnel of freight forwarders undergo trainings and pass exams for aptitude for the delivery of feed.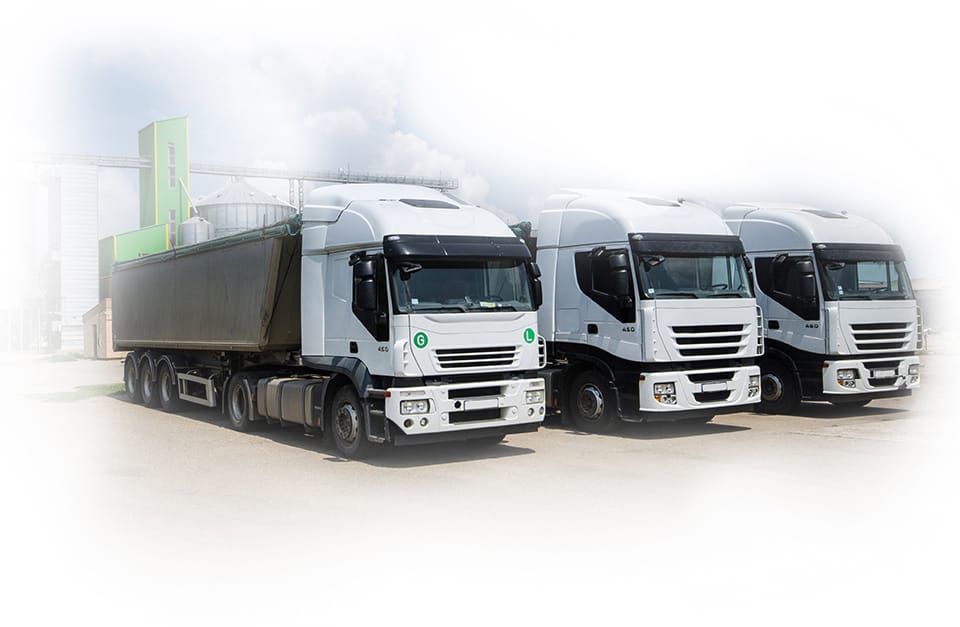 Bulk cargo transportation
The AGROCARGO Group of companies transports bulk cargo by road (tankers) from 38 cubic meters with autonomous pneumatic unloading with delivery to the warehouse without transshipment.
An approximate list of goods transported by feed trucks: compound feed, flour, sugar, grain and grain crops, legumes, cake, meal, etc.
Semi-trailers feed trucks
Our company uses semi-trailers feed trucks of various modifications for transportation
Characteristics of semi-trailers

Self-supporting structure for transportation and unloading of bulk products and compound feed

Volume

4 loading hatches, 420 mm in diameter with fixed valves

Rear or side unloading through the hose

Advantages of feed trucks

Biological safety (the tank of the feed truck is made of metal alloys intended for the transportation of food cargo)

Microbiological safety is achieved due to the absence of the external environment influence on the cargo

he feed truck can unload the feed (cargo) to a high altitude
AGROCARGO route network:
On the territory of the Russian Federation
Delivery across the Russian Federation territory to federal networks, large-scale processing of raw materials
To the CIS countries
As well as to the countries of the Customs Union
EU countries
Austria, Belgium, Bulgaria, Great Britain, Hungary, Germany, Greece...
Key ports of the Russian Federation
Novorossiysk, Ust-Luga, Vostochny Port, Primorsk, Murmansk and others
We are members of the ATS Charter and the AIC Charter

The Charter's mission
Restoration of fair competition in the entire market of freight transportation by road, formation of an intolerant attitude towards companies that violate tax, administrative and industry legislation of the Russian Federation

The Charter's mission
Restoration of fair competition in the entire agricultural market and the formation of an intolerant attitude towards companies that violate the tax legislation of the Russian Federation